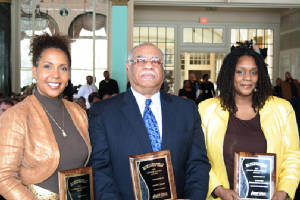 (l-r) Awardees: Amy Hilliard, John Clark and Calvita Frederick-Sowell
"A Taste of Black History" Celebrates Its 10th Anniversary
Grammy-nominated R&B Artist Musiq Soulchild made a special appearance at the recent 10th Annual "A Taste of Black History" Kick-Off Reception held at the South Shore Cultural Center. NBC 5 Anchorman Warner Saunders served as Master of Ceremonies for the program, which also featured an interpretive performance by the cast of the award-winning play, "Black Nativity."
During the event, Jewel-Osco presented awards to three of its exceptional African-American vendors: Amy Hilliard, The ComfortCake Company, Vendor Innovation Award; John Clark, Reggio's Pizza, Vendor Legacy Award and Calvita Frederick-Sowell, Brand Ambassador Award.

Jewel-Osco awarded more than $40,000 to several Chicago area non-profit organizations in recognition for their outstanding work in the community. Organizations honored include: Blacks in Green, DuSable Museum, Faith Community of St. Sabina, Real Men Cook, The Links, Inc, Illinois African American Coalition for Prevention (ILAACP) and the Washburne Culinary Institute.

"Each year, we take this opportunity to honor our African-American vendors and local
community groups for their outstanding work," said Jewel-Osco President Keith Nielsen.
"Our partnership with the Washburne Culinary Institute this year marks another step forward
in the evolution of this cultural celebration."
Coca-Cola and Jewel-Osco have teamed up over the past five years to co-sponsor the event. "We are pleased to continue this partnership with Jewel-Osco and pay tribute to those who have given of their time and talent so unselfishly," said Coca-Cola Community Relations Manager Anthony Taylor.
Guests attending the event sampled over 20 different dishes prepared by students from the
Washburne Culinary Institute, which is the oldest culinary school in the country and part of
the City Colleges of Chicago. The dishes were prepared using products from more than 25
Jewel-Osco African American vendors.